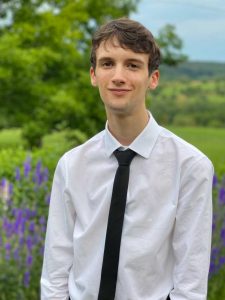 Join us as Grace Church welcomes organist
Nicolas Kilhoffer as guest artist for Bach at Noon on
Tuesday 31 October at 12:20 p.m.
PROGRAM
Pièce d'orgue – BWV 572
Christ, unser Herr, zum Jordan kam – BWV 684
from Clavier-Übung III
Dies sind die heilgen zehn Gebot – BWV 678
from Clavier-Übung III
Prelude and Fugue in A minor – BWV 543
Born in 2002 in Saverne (Eastern France), Nicolas Kilhoffer first studied piano at the age of 7. After teaching himself organ and playing at church from the age of 10, he has been taught in his hometown music school before being admitted, in 2017, at the Conservatoire in Strasbourg where his teachers includes Daniel Maurer (organ and improvisation), Elyette Weil (piano) and Gaël Lozac'h (harmony).
Carrying out business studies in Nantes, Nicolas Kilhoffer completed his training at the Conservatoire of the same city in the piano studio of Victoria Kamyshinets. He also attended several masterclasses given by Vincent Dubois, Thierry Escaich and Thomas Ospital, and now has the opportunity to study under the guidance of Johann Vexo in addition of his Conservatory program.
He regularly performs concerts in France which significantly feature improvisation, in cities
such as Castelnaudary, Granville, Strasbourg, Thionville… and got to play many instruments during recent internships in the United States, Australia and New Caledonia. He recently performed a recital at All Saints' Cathedral in Nairobi, Kenya, and taught a masterclass attended by many organists from Eastern Africa.