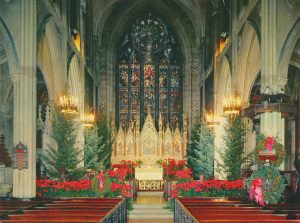 The Annual Carol Service, A Festival of Nine Lessons and Carols will be offered by The Choir of Men and Boys with The Girls' Choir on Christmas Eve at 8:00 o'clock p.m. This service was the first of it's kind to be live broadcast on Television at the beginning of the new communication era.
Please bring Family and Friends and enjoy listening to and singing some of your favorite Christmas Carols. The service will be precceded by seasonal music on the recently completed Bicentennial Organ, Opus 65, built for the Community by Taylor and Boody Organbuilders of Staunton, Virginia. The organ music will begin at 7:30 p.m.
Amahl and the Night Visitors, the beautiful seasonal opera by Menotti will be offered as part of Choral Evensong on Sunday 5 January at 4:00 o'clock p.m. in the Church. Menotti originally wrote this work as a Television piece and after 50 years has become a loved part of the Season. Please join us for this special offering.