September is just around the corner! Take a look and bring friends and family to meditate, pray, give thanks and enjoy the offerings of the new season that begins on
7 September.
EACH WEEK!

SERVICES
Sunday at 9 a.m. with The Parish Choir in the …..Church, Holy Communion Rite Two
Sunday at 11 a.m. with The Choir of Men and Boys, The Girls' Choir with Adults or The Adult …..Choir in the Church
…..First and Fifth Sundays Holy Communion Rite One, Second through Fourth Sundays Morning …..Prayer Rite One
Sunday at 6 p.m with Instrumentalists in the Chantry Chapel, Holy Communion Rite Two
Wednesdays at 6 p.m. with Hymns in the Chantry Chapel, Holy Communion Rite Two
Saturday and Sunday at 4:00 p.m.
The Weekend Organ Meditations take place when there are no special liturgies or other offerings taking place in the church.
September 7 to May 24
Tuesday through Friday at 12:20 p.m.
Bach at Noon takes place every week between 12:20 and 12:50 p.m. in the Church.
September 9 to May 22
Tuesdays at 6:00 p.m.
Choral Evensong is offered by the Junior Choristers of the Grace Church Choirs each Tuesday that Grace Church School is in session.
The 2014-2015 Season of Tuesday Evensong will begin on Tuesday 6 October at 6:00 p.m. in the Church. To confirm the weekly schedule please check the weekly schedule posted on the home page of this website or call 212.254.2000/6.
CLICK HERE FOR 2014 – 2015 Season Upcoming Events Flyer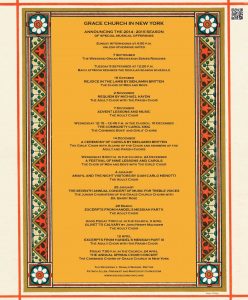 2014-2015 Season
Sunday Afternoons at 4:00 p.m. unless otherwise noted
7 September
The Weekend Organ Meditation Series Resumes
Tuesday 9 September at 12:20 p.m.
Bach at Noon resumes the regular season schedule
19 October
REJOICE IN THE LAMB BY BENJAMIN BRITTEN
The Choir of Men and Boys
2 November
REQUIEM BY ALFRED DESENCLOS
The Adult Choir with the Parish Choir
7 December
ADVENT LESSONS AND MUSIC
The Adult Choir
Wednesday 12:15 – 12:45 p.m. in the Church, 10 December
THE COMMUNITY CAROL SING
The Combined Boys' and Girls' Choirs
14 December
A CEREMONY OF CAROLS BY BENJAMIN BRITTEN
The Girls' Choir with Alumni of the Choir and members of the
Adult and Parish Choirs
Wednesday 8:00 p.m. in the Church, 24 December
A FESTIVAL OF NINE LESSONS AND CAROLS
The Choir of Men and Boys with The Girls' Choir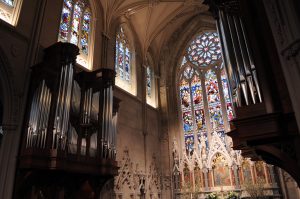 4 January
AMAHL AND THE NIGHT VISITORS BY GIAN CARLO MENOTTI
The Adult Choir
25 January
THE SEVENTH ANNUAL CONCERT OF MUSIC FOR TREBLE VOICES
The Junior Choristers of the Grace Church Choirs with
Dr. Barry Rose and The Whiting of Novices
29 March
EXCERPTS FROM HANDEL'S MESSIAH PART II
The Adult Choir
Good Friday 7:00 p.m. in the Church, 3 April
OLIVET TO CALVARY by John Henry Maunder
The Adult Choir
12 April
EXCERPTS FROM HANDEL'S MESSIAH PART III
The Adult Choir with the Parish Choir
Friday 7:00 p.m. in the Church, 24 April
THE ANNUAL SPRING CHOIR CONCERT
The Combined Choirs of Grace Church in New York