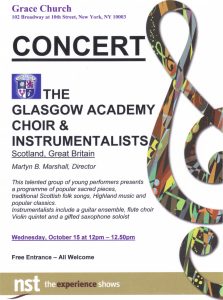 THE GLASGOW ACADEMY CHOIR & INSTRUMENTALISTS
Scotland, Great Britain
Martyn B. Marshall, Director
This talented group of young performers presents a programme of popular sacred pieces, traditional Scottish folk songs, Highland music and popular classics.
Instrumentalists include a guitar ensemble, flute choir,
Violin quintet and a gifted saxophone soloist
Wednesday, October 15 at 12pm – 12.50pm
FREE ADMISSION
PROGRAM:
Hallelujah – Leonard Cohen
Dream, Johnny Mercer
With a little help from my friends, Lennon and McCartney
Johnnie Cope, Ken Johnston
Will ye no come back again, Scottish Traditional
Magnify the light, Carl Strommen
The Rhythm of Life, Coleman & Fields
Highland Cathedral, Scottish Traditional
Offerings by Instrumental Ensembles


The Glasgow Academy
The decision to found The Glasgow Academy was taken in May 1845 by members of the newly-formed Free Church of Scotland. The school building was formally opened in the centre of the city on 5th May 1847 but in 1878 The Academy moved to its current site at Kelvinbridge. The school has remained in the West End through turbulent times: the First World War touched every part of The Academy, with teachers and pupils going abroad to fight. In 1919 the War Memorial Trust was established to take over ownership of the school and to commemorate whose who had served and fallen in the War. The Academy's brave tradition of military service was then repeated in the Second World War, sadly producing another high death toll amongst those connected to the school.

Since then, The Academy has seen altogether more positive changes. The merger with Westbourne School for Girls in 1991 turned The Academy into a co-educational school. Further mergers have followed as The Academy has extended its borders beyond Kelvinbridge and the long-established but often extended playing fields at Anniesland. Atholl Preparatory School in Milngavie and Dairsie House School in Newlands are now part of The Academy community. A brand new Preparatory School building on the Kelvinbridge site opened in April 2008. The school now educates 1250 children from Nursery/Kindergarten up to S6.

Music is one of The Academy's strengths and the school has four full-time music staff teaching music to children of all ages. There are currently 500 instrumental lessons taking place each week taught by 23 music tutors. Instruments taught range from violin to flute, oboe, clarinet and on to accordion and bagpipes. There are many music ensembles in the school which rehearse on a weekly basis. The youngest group is the year 4 choir, moving up to the Senior School Concert Band and the Pipes and Drums of The Glasgow Academy. Music is taught in a purpose-built music building housing classrooms, small tutor rooms and a performance room which seats 50 and houses a Yamaha Concert Grand Piano.
CLICK HERE FOR THE FLYER OF THIS EVENT: Glasgow Academy Concert