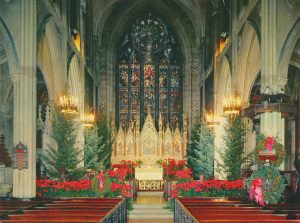 Last Spring after the Annual Concert, the Chorsiters gathered for a morning rehearsal on Alan Ridout's Sacred Songs, Set One. A beautiful song cycle written for the choristers at Canterbury.
The rehearsal with our great friend Dr. Barry Rose was captured on two Ipads and the resulting material made for a lovely video! Easter was just the week prior as can be witnessed by the beautiful spring flowers still in the Church around the choir.
Enjoy! with all our love to you and yours for this special and Holy Season!
Merry Christmas!
Grace Church Boys' and Girls' Choirs
May 2014
Rehearsal, Alan Ridout, Sacred Songs Set One
Dr. Barry Rose, Guest Conductor
Dr. Patrick Allen, Organist