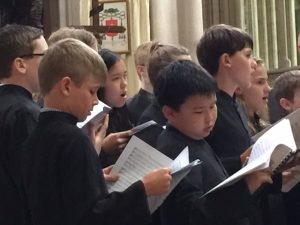 Today 22 June we enjoyed breakfast in the hotel and road our bus to the Pointe du Hoc and the beaches where the allies landed on D Day. On the way our guide gave us much information about the planning and events of the day and we watched a detailed movie about the events from beginning to end of the Battle of Normandy.
We had lunch on the cliffs overlooking the beaches of the landing.
After lunch we visited the Normandy American Cemetery and Memorial and sang at the Memorial. We offered Maurice Duruflé's moving setting of Ubi caritas…….
Where charity and love are, God is there.
At the same time, therefore, are gathered into one:
Lest we be divided in mind, let us beware.
Let evil impulses stop, let controversy cease.
And in the midst of us be Christ our God.


The rain began following during this visit and after a brief tour among the graves of the American Soldiers we boarded the bus for Bayeux.
In Bayeux we offered an informal concert at the crossing of the 13th century Notre Dame-Bayeux Cathedral…….
Sing my soul…….Ned Rorem
Super flumina Babylonis…….Giovanni Pierluigi da Palestrina
God so loved the world…….John Stainer
Haec dies…….William Byrd
The Cathedral is a beautiful space where we saw the early Romanesque style of architecture and as it was re built the addition of the florid gothic style and other styles over the some six hundred years of building, additions and decorations.


Following the Cathedral we walked down the street to visit the museum that houses the famous Tapisserie de Bayeux. The Tapestry was commissioned by the brother in law of William the Conqueror, the Bishop of Bayeux and details the events that led up to his invasion of England, the battle of Hastings and the death of King Harold in September/October of 1166. All of this climaxing with William becoming King of England on Christmas Eve in 1066.
A very emotional and moving day.

We returned to our hotel for a quiet evening, dinner and to prepare to leave in the morning first to Rouen and then into Paris.