Today 24 June we had breakfast in the hotel and loaded the bus for a tour of Paris through the wonderful and diverse neighborhoods and highlighting the Champs Elysées, Arc de Triômphe, Tomb of Napoleon, Place de la Concorde, The Opéra, the Bastille Square and the Place des Vosges. Following this wonderful introduction to the city of Paris we had some free time for lunch and to prepare for the afternoon and evening's adventure.


We loaded the bus and headed for Chartres to visit and offer a concert in that great medieval Cathedral. No book or picture can do this great church justice.. We were moved by the great testimony of faith and culture both past and present represented in the fabric and space in this crown of medieval churches.
We were inspired and the concert very well attended. This was a moment in sight and sound that all present will never forget.


Our Program:
PSALM 24. Domini est terra……Anglican Chant (Barnby)
REJOICE IN THE LORD…….Anonymous (16th Century)
UBI CARITAS…….Maurice Duruflé (1902-1986)
IF YE LOVE ME…….Thomas Tallis (c.1505-1585)
THE HEAVENS ARE TELLING, OPUS 48/4…….Ludwig van Beethoven (1770-1827)
JUSTORUM ANIMÆ…….C. Villiers Stanford (1852-1924)
AVE VERUM …….Wolfgang Amadeus Mozart (1756-1791)
GOD SO LOVED THE WORLD……..John Stainer (1840-1901)
HAEC DIES…….William Byrd (c.1543-1623)
STEAL AWAY…….African-American Spiritual
…..Harmonized and Arranged by H.T. Burleigh (1866-1949)
Sing my soul……Ned Rorem (b.1923)
SUPER FLUMINA…….Giovanni Pierluigi da Palestrina (c.1525-1594)
THE VIRGIN MARY HAD A BABY BOY…….arr. Robert De Cormier (b.1922)
PSALM 150. Laudate Dominum…….Anglican Chant (Talbot)


Soli Deo Gloria
A very good day.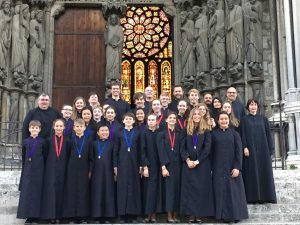 Concert Poster Grace Church Cathedral of Chartres