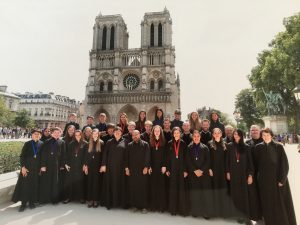 Sunday 13 September 2015, Proper 19, Morning Prayer Rite I
Greetings with hopes to you had a safe and beautiful summer season.
After a fantastic tour to France, the choirs are rested, the choristers have grown taller, the novices are at the starting line and here we go!
This Sunday 13 September at 11:00 a.m. the choirs open the 2015-2016 Season of Muiscal Offerings. There will be a special reception after church to welcome everyone back to the fall season! Bring family and friends and enjoy this festive day!
The Combined Grace Church Choirs at 11:00 a.m. Morning Prayer Rite One
The opening of the 121st Season of the Choirs.
Anthem, Jesu, joy of man's desiring…….Johann Sebastian Bach (1685-1750)
Offertory Anthem, Zadok the priest…….George Frideric Handel (1685-1759)
Invitatory: Venite Anglican Chant (Rimbault)
Secondary Canticle: Benedictus es Anglican Chant (R.H. Stanley)
Hymns, 390, Praise to the Lord, the Almighty…….LOBE DEN HERREN
…….691, My faith looks up to thee…….OLIVET
…….209, We walk by faith …….ST. BOTOLPH
…….494, Crown him with many crowns…….DIADEMATA
Prelude, Passacaglia in c-moll, BWV 582…….Johann Sebastian Bach (1685-1750)
Postlude, Toccata (Cinquième Symphonie, Opus 42/1)…….Charles-Marie Widor (1844-1937)