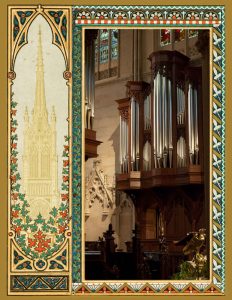 WEEKEND ORGAN MEDITATIONS
Grace Church in New York
ANNOUNCING THE 2015-2016 SEASON
Every Saturday and Sunday at 4:00 p.m.
12 September 2015 to 29 May 2016
Forty-Five Minute Organ Meditations celebrating the diverse repertoire of the pipe organ.
If music be the food of love, play on!
Consider bringing a dry food good or toiletry to share with the needy of our city.
Subject to special liturgical observances
Free Admission
Up to date schedule confirmation:
212.254.2000/6
or
www.gracechurchnyc.org CLICK Music
To see daily programs to be played please click here.
CLICK HERE for the 2015-2016 Bach at Noon – Weekend Organ Meditation Postcard
CLICK HERE for the 2015-2016 Bach at Noon – Weekend Organ Meditation Poster