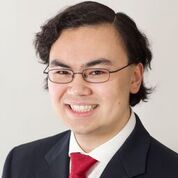 Join us to begin the Winter term of Bach at Noon as Grace Church welcomes organist Jacob Reed as guest artist for Bach at Noon on Tuesday 5 January at 12:20 p.m.
PROGRAM
Trio Sonata No.2 in c minor BWV 526
I. Vivace II. Largo III. Allegro
An Wasserflüssen Babylon BWV 653b (a 5, con doppio pedale)
Concerto in d minor BWV 596 (after Vivaldi, L'estro armonico, No. 11, RV 565
I. [Allegro] – Grave [Adagio e Spiccato] – Fuga [Allegro]
II. Largo e Spiccato
III. [Allegro]
Jacob Reed is a junior at Yale University, where he studies organ with Professor Thomas Murray in addition to double-majoring in music and mathematics. Over the past several years, he has given recitals across the United States, Europe, and Canada, as well as playing church services regularly.
In 2015, Jacob studied under Bine Bryndorf and Hans Davidsson at the Royal Danish Academy of Music Summer Campus; in 2012 and 2014, he studied with teachers Ton Koopman, Olivier Latry, Jon Laukvik, Margaret Phillips, Louis Robilliard, and Leo van Doesselaar at the International Summer Academy for Organists in the Netherlands. He was a 2013 U.S. Presidential Scholar, and was selected as a 2013 YoungArts National Finalist by the National YoungArts Foundation—one of 152 finalists out of nearly 10,000 applicants, and the only organist among the 19 classical musicians selected.
Jacob has also performed frequently as a soloist, accompanist, and chamber musician on piano, harpsichord, cello and viola da gamba. In high school, he played continuo for the University of North Carolina Baroque Ensemble for three years; he is now an instrumentalist and vocalist for the Yale Collegium Musicum, and harpsichordist for the Yale Baroque Opera Project.