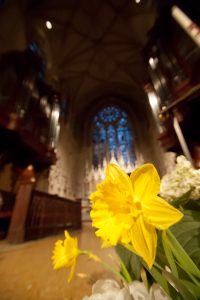 The Three Days or Triduum are the days beginning Thursday at sundown, Maundy Thursday and runs through Easter Day.
Bring your family and friends and be with us at Grace Church as we remember these days of our Lord and celebrate his Resurrection on Easter Day.
HOLY WEEK 2016
Thursday 24 March 2016, Maundy Thursday
Holy Communion and the
Stripping of the Altar
The Adult Choir
Prelude, Schmücke dich , o liebe Seele, BWV 564
…….Johann Sebastian Bach (1685-1750)
Processional Hymn 339, Deck thyself, my soul, with gladness…….SCHMÜCKE DICH
Kyrie, Hymnal S-91…….Healey Willan (1880-1968)
Psalm 78: 15-21, 24-26. Attendite, popule……..Anglican Chant (Garrett, Stonex)
Sequence Hymn 315, Thou, who at thy first Eucharist didst pray…….SONG 1
Motet at the Foot Washing, Ubi caritas…….Maurice Duruflé (1902-1986)
Hymn 577, God is love, and where true love is…….UBI CARITAS (Murray)
At the Offertory, If ye love me…….Thomas Tallis (c.1505-1585)
Presentation Hymn 474, vs. 4 …….ROCKINGHAM
Sanctus, Hymnal S-114…….Healey Willan
Agnus Dei, Hymnal S-158…….Healey Willan
At the Communion, Lord, for thy tender mercy's sake…….John Hilton (c.1560-1608)
…..Hymn 329, Now, my tongue, the mystery telling …….PANGE LINGUA
The Stripping of the Altar
Psalm 22. Deus, Deus meus…….Plainsong (Tone II1)
Friday 25 March 2016, Good Friday, Three Hours
Hymn 172, Were you there when they crucified my Lord ?…….WERE YOU THERE
Hymn 652, Dear Lord and Father of mankind…….REST
Hymn 474, When I survey the wondrous cross…….ROCKINGHAM
Hymn 167, There is a green hill far away…….HORSLEY
Hymn 164, Alone thou goest forth…….BANGOR
Hymn 166, Sing, my tongue, the glorious battle…….PANGE LINGUA
Hymn 168, O sacred head, sore wounded…….HERZLICH TUT MICH VERLANGEN
Hymn 158, Ah, holy Jesus…….HERZLIEBSTER JESU
Friday 25 March 2016, Choral Vespers on Good Friday Evening at 7 o'clock p.m.
The Adult Choir
Motet, Crux Fidelis…….King John of Portugal (d. 1656)
Psalm 40 : 1-16, Expectans expectavi…….Anglican Chant (Goss after Clarke)
Hymn 160, Cross of Jesus, cross of sorrow…….CROSS OF JESUS
CRUCIFIXION…….John Stainer (1840 – 1901)
Saturday 26 March 2016, THE GREAT VIGIL OF EASTER at 7 o'clock p.m.
The Adult Choir
Canticle 8, The Song of Moses
Psalm 30. Exaltabo te, Domine.
Psalm 42. Quemadmodum.
Hymn 207, Jesus Christ is risen today…….EASTER HYMN
Sermon Hymn 199, Come, ye faithful, raise the strain…….ST. KEVIN
At the Offertory, Haec Dies…….William Byrd (c.1542-1623)
Sanctus and Benedictus…….Gerre Hancock Missa Resurrectionis
…..Agnus Dei ………………(1934-2012)
At the Communion
…..Hymn 174, At the Lamb's high feast we sing…….SALZBURG
…..Anthem, Ego sum panis vivus…….Giovanni Pierluigi da Palestrina (1525-1594)
At the Procession, Hymn 208, The strife is o'er, the battle done…….VICTORY
Voluntary, Toccata (Cinquième Symphonie, Opus 42/1)…….Charles-Marie Widor (1844-1937)
Sunday 27 March 2016 – EASTER DAY 9 o'clock a.m.
The Combined Choirs of Grace Church.
Hymn 207, Jesus Christ is risen today…….EASTER HYMN
Anthem of Praise: Christus Vincit…….Joseph Noyon (1888-1962) Arr. by Gerre Hancock (1934-2012)
Sequence Hymn 208, The strife is o'er, the battle done…….VICTORY
Offertory Hymn 180, He is risen, he is risen! …….UNSER HERRSCHER
Sanctus, Hymnal S-129…….Robert Powell
Fraction Anthem, S-154…….David Hurd
Communion Motet, This is the day…….Anonymous ca. 1600
…..Hymn 199, Come, ye faithful, raise the strain…….ST. KEVIN
…..205, Good Christians all, rejoice and sing!…….GELOBT SEI GOTT
Processional Hymn 210, The day of resurrection!…….ELLACOMBE
Prelude, Carillon de Westminster…….Louis Vierne (1870-1937)
Postlude, Toccata (Cinquième Symphonie, Opus 42/1)…….Charles-Marie Widor (1844-1937)
Sunday 27 March 2016 – EASTER DAY 11 o'clock a.m.
The Combined Grace Church Choirs with Brass and Tympani
Prelude, Feierlicher Einzug…….Richard Strauss (1864-1949) arranged by Max Reger (1873-1916)
At the Procession Hymn 207, Jesus Christ is risen today…….EASTER HYMN arranged by Richard Webster
Anthem of Praise, Christus Vincit…….Joseph Noyon (1888-1962) arr. by Gerre Hancock (1934-2012)
Psalm 118 : 14-17, 22-24. Confitemini Domino…….Anglican Chant (Thalben-Ball)
Sequence Hymn 208, The strife is o'er, the battle done…….VICTORY arr. by Richard Webster
At the Offertory, Light's glittering morn bedecks the sky…….Horatio Parker (1863-1919)
Hymn 180, He is risen, he is risen!…….UNSER HERRSCHER
Hymnal S-114, Sanctus…….Healey Willan (1880-1968)
Hymnal S-158, Agnus Dei…….Healey Willan
AT THE COMMUNION,
Anthem, Haec Dies…….William Byrd (c.1542-1623)
Hymn 174, At the Lamb's high feast we sing…….SALZBURG
…..192, This joyful Eastertide…….VRUECHTEN
…..193, That Easter day with joy was bright…….PUER NOBIS
Anthem, This is the day…….Anonymous ca. 1600
Hymn 194, Jesus lives! thy terrors now…….ST. ALBINU
…….199, Come, ye faithful, raise the strain…….ST. KEVIN
…..Good Christians all, rejoice and sing!…….GELOBT SEI GOTT
Anthem, When the Lord turned again …….Adrian Batten (1591-1637)
Processional Hymn 210, The day of resurrection!…….ELLACOMBE arr. by Richard Webster
Voluntary, Toccata (Cinquième Symphonie, Opus 42/1)…….Charles-Marie Widor (1844-1937)
Sunday 27 March 2016 – EASTER DAY, 6 o'clock p.m.
The Adult Choir
Hymn 207, Jesus Christ is risen today…….EASTER HYMN
Anthem of Praise: Christus Vincit…….Joseph Noyon (1888-1962) arr. by Gerre Hancock (1934-2012)
Psalm 118 : 14-17, 22-24. Confitemini Domino…….Anglican Chant (Thalben-Ball)
Sequence Hymn 208, The strife is o'er, the battle done…….VICTORY
Offertory Anthem, Haec Dies …….William Byrd (c.1542-1623)
Presentation Hymn 180, He is risen, he is risen!…….UNSER HERRSCHER
Sanctus, Hymnal S-129…….Robert Powell
Fraction Anthem, S-154…….David Hurd
Communion Motet, This is the day…….Anonymous ca. 1600
Hymn 174, At the Lamb's high feast we sing…….SALZBURG
…..193, That Easter day with joy was bright…….PUER NOBIS
…..199, Come, ye faithful, raise the strain…….ST. KEVIN
…..205, Good Christians all, rejoice and sing!……. GELOBT SEI GOTT
Processional Hymn 210, The day of resurrection!……. ELLACOMBE
Prelude, Carillon de Westminster…….Louis Vierne (1870-1937)
Postlude, Toccata (Cinquième Symphonie, Opus 42/1…….Charles-Marie Widor (1844-1937)