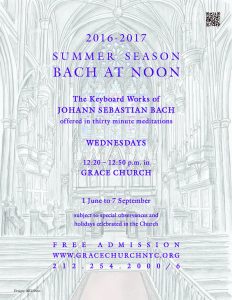 Please forgive us but due to the closing exercises of Grace Church School Bach at Noon will not take place on Wednesday 15 June.
Bach at Noon will be back on Wednesday 22 June at 12:20 p.m.
The summer season runs through 7 September every Wednesday at 12:20 p.m.
Free Admission.
These programs last approximately thirty minutes.
Bring a dry food item, canned good or toiletry to help those in need!
Music is the food of love, play on!
and HAPPY SUMMER!