Music at Grace Church in New York
Music at Grace Church in New York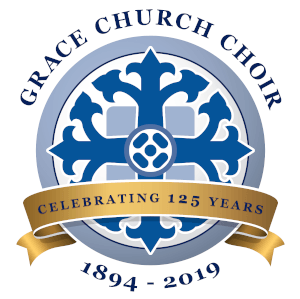 Celebrating the 125th Anniversary
of the Founding of the
Choirs of Grace Church in New York
and the Choir School
Information Page
Save the Date: Friday 26 April 2019
Festive Anniversary Concert with the Combined Grace Church Choirs and Alumni
7:00 p.m. in Grace Church, Free Admission
Anniversary Reception by advance ticket purchase to support the Choir Special Projects Fund following the Concert at Grace Church School
Alumni are invited to participate, singing in the concert. How much and when to rehearse to be determined by the alumni response. Music will be available in advance. RSVP to Patrick Allen
Watch this page for information on reception ticket sales as this is determined.
Support the Choir Special Projects Fund by acquiring "Choir Spirit Items" being issued during this celebration year. Keep an open ear for "Pop Up" opportunities for the Choir Tie, Scarf, Tote Bag, Baseball Cap and many other special celebration items.
The Choir Special Projects Fund is a dedicated fund that supports the work and opportunities for the choirs not covered by the church operating budget. During this Anniversary celebration we hope to raise funds to restore the 117 year old choir stalls. There will be detailed information on this project coming soon.